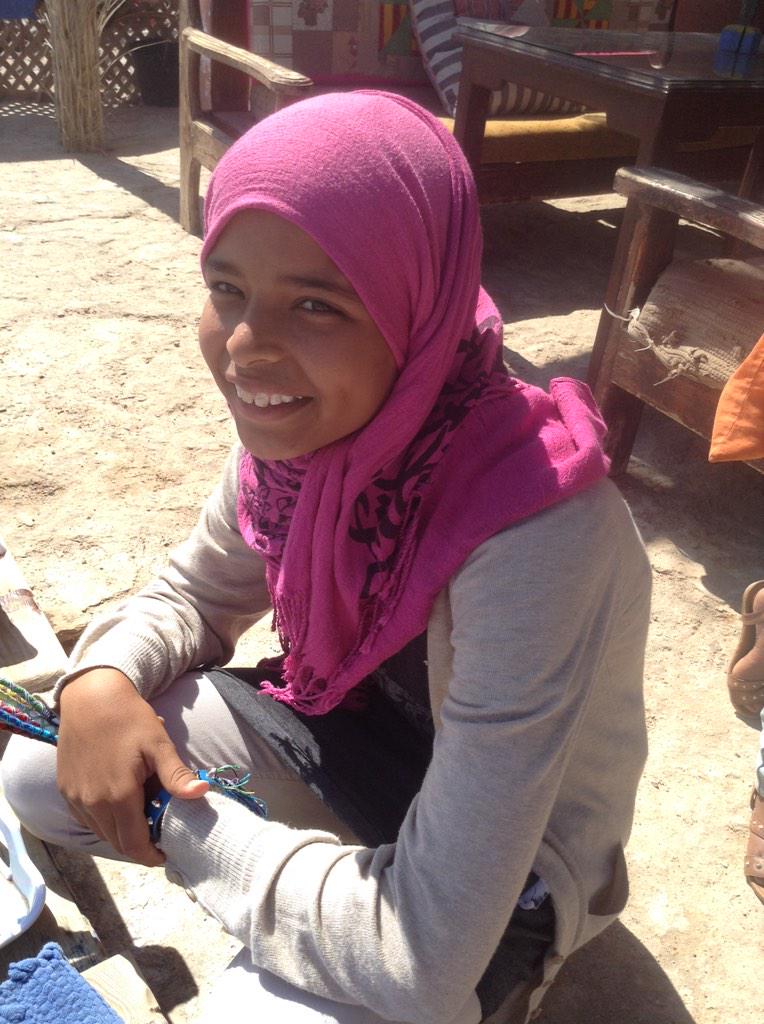 Fariah, who sells bracelets in the Red Sea resort town of Dahab.
Her favourite subjects at school are English and Qura'an. She doesn't like maths.
Moving to Egypt as an immigrant woman can be a lonely experience. When I moved there in 2013, I immediately found all the businesses in the village run by men. Cafes are social spaces for men. Women socialise in their homes, visiting one another rather than meeting in public. Few work in public facing roles.
In 2015, more women are out in public, particularly younger women travelling to and from universities, hanging out in public spaces, walking and bubbling along. Key for me though, is the absence of young girls from the streets across Giza and the Sinai. A short time ago, tens of girls wandered the streets during the day, while their brothers were in school. Girls and younger boys worked taking photos of tourists, selling souvenirs and offering to braid women's hair as they lay reading trashy novels on the shore front of the Red Sea. Now, the number is noticeably smaller, though data suggests that the number of girls outside school is double that of boys. However even girls who are in school, like Fariah (left) are often home schooled, or attend a madrasa in the evenings, not a 9-3 state school like most boys.
Girls of ethnic minorities in Egypt, like Bedouin women, are far more likely not to have any access to education. Further, the children of uneducated mothers are more likely to be illiterate and prone to practices such as FGM according to Malak Zalouk, the director of the Middle East Institute at the American University in Cairo.
Sara, a Bedouin girl I met recently, (below) when I asked her why she was not in school, claimed to be "on holidays" as she worked a 10 hour day with her father serving tourists in the Great Pyramids complex.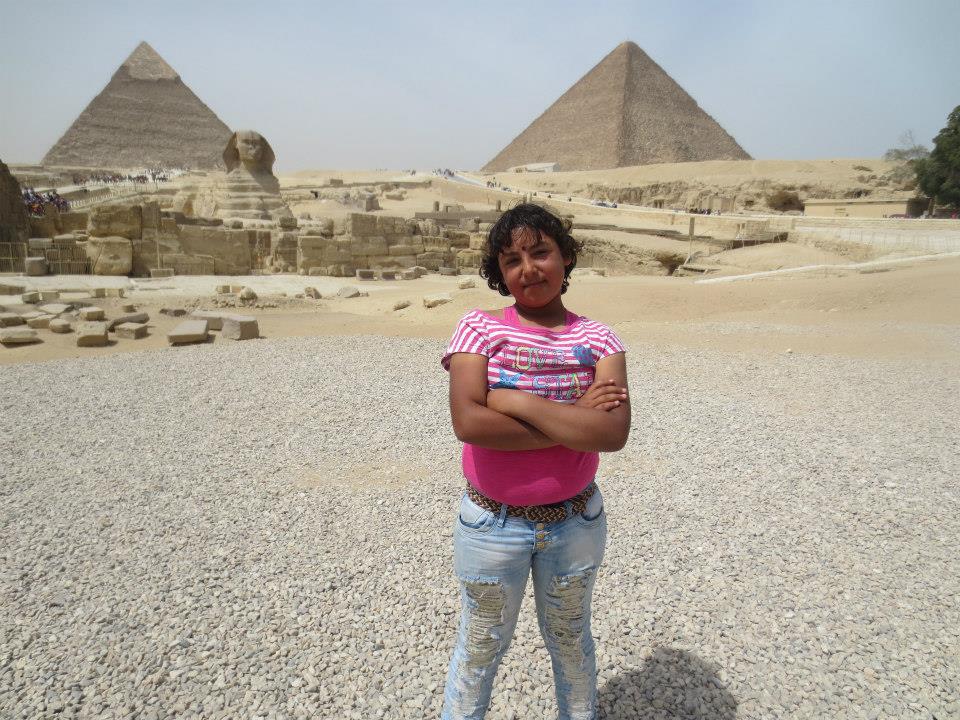 Sara, who told us she wasn't in school as she was on holidays.
She works with her father and brother selling souvenirs in the Pyramids at Giza.
Women and girls in Egypt have started a concerted campaign to secure the right of girls to access education. In 2012 the Let Us Learn campaign highlighted the struggles particularly of the 45% of Egyptians who live in slums to secure the right and opportunity for literacy education. UNICEF also runs a Girls Education in Egypt Initiative which has succeeded in an aspiration for many countries around the world: getting girls into schools. This has been predominantly achieved by setting up local, girls only schools, or schools where girls compose a 75% majority of students.
The gender gap for primary education in Egyptian governorates reaches up to 16%, according to the UNICEF figures. Educating girls brings development by any measure you care to use, especially in Africa, the continent Cairo once ruled as an economic hub. Alternately, the recent upturn in investment in Egypt, which has supported economic growth and a raise in minimum living standards will also mean that the families of young girls will no longer rely on their children's portion of income to subsist. Changing the huge depth of inequality in Egypt's economy will and has already helped hundreds of girls into school. The conditions of equality and success for girls though need to be created, as investment in Egyptian industry is created, and for equal and mutually reinforcing success.